{combrite_tickets 14024600959;4}

We invite you to join us on Friday, November 21 from 6:30 to 9:30pm at Seasons 52 in Century City for business networking, wine tasting and a chef's menu pairing.
Join L7 upscale business professionals from the following industries: High-tech start-ups, Marketing/Advertising/Media, Legal and Professional, Medical, Entertainment, Real Estate Investment, Non-profit, Government, Education, Finance, Hospitality, Architecture & Design and some services for these industries. Small business owners, entrepreneurs and corporate executives are all welcome.
We will enjoy two wine flights with Season's 52 "Chef's Choice" menu pairings.  Tasting stations will be set up for a walk-around food and wine pairing so you can mix and mingle with guests of interest with ease. Then choose your favorite wine and enjoy a full glass of the same.
Food and Wine Pairing Stations:
| | |
| --- | --- |
| Zardeto Prosecco, Treviso NV and Santa Julia Pinot Grigio, Mendoza 2013 | paired with Roasted Roma Tomato Flatbread, Garlic Pesto Chicken Flatbread and Tuna and Avocado Roll |
| Macedon Pinot Noir 2010 from Macedonia and Juntos Merlot 2011 from Alicante Spain | paired with Mushroom Caps, Mushoom Tart and Chicken Skewers |
| Wrongo Dongo Monastrell Shiraz 2012/2013 and Santa Cristina Sangiovese 2010 from Tuscany | paired with Braised Beef Crostinis and Steak and Blue Cheese Flatbread |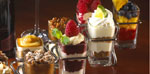 Mini Indulgences Desserts- Such as Pumpkin Pie, Toasted Almond Amaretto Crunch, Butterscotch Budino with Salted Caramel and Bing Cherry Creme Brulee. Decadent but no more than 475 calories!
When: Friday, November 21 from 6:30 to 9:30pm
Where: Seasons 52 Century City
Cost: $45 by advance purchase or $55 with RSVP. Includes chef's food and wine pairing.
Parking: Three hours free parking at mall with Seasons 52 validation.
Questions: Please call L7 at 310-877-6266.
NOTE: Please consider donating non-perishable food items or $ for Brownie Troop food drive for low-income elderly seniors of the Conejo Valley. A collection box will be available at the event.
About: Seasons 52 is a celebration of what's good now. Seasonally inspired ingredients at their peak of freshness. Rustic cooking techniques that bring out natural flavors and are inherently lighter- with nothing on the menu more than 475 calories. And an ever-changing selection of global wines. All in a casually sophisticated setting. Come discover what's good now.